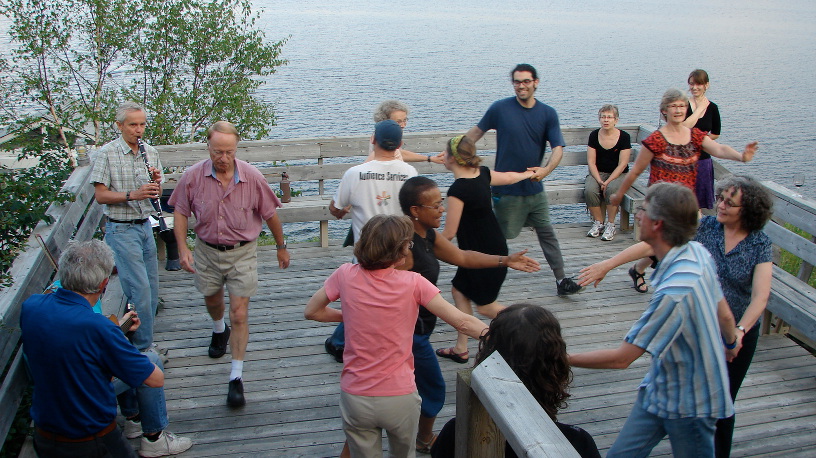 The Manitoba International Folk Dance Association is a recreational dance group, open to everyone who shares our enthusiasm for folk dancing. For over 35 years our non-profit organization has promoted the folk dances and music of countries and ethnic regions from around the world, building a repertoire of hundreds of dances from all over Europe and around the globe. We feature a wide variety of dance styles - from circle dances to set and couple dances, from line dances to mixers. More...
Join Us!
Churchill Park United Church
525 Beresford Avenue, Winnipeg, MB
Fridays 8:15 - 11:00 p.m.
From mid-September through mid-June
Want to stay in touch?
Join our mailing list
.

News:
Beresford Avenue Construction
Posted by Don Tiessen
Last Modified 09/01/2018
---
Coming Events:
Weekly Dancing Resumes Sept. 14
UPDATED!
Our new season of Friday evening dancing will now begin on September 14. As usual, we'll start with warm up dances at 8:15, teaching from 8:30 to 9:30, followed by requests until 11:00.
---
Culture Days Open House Sept. 28
Our free annual open house takes place on Friday, Sept 28 from 8:15-11:00 at our usual dance location - Churchill Park United Church 2nd floor, 525 Beresford Ave. We will encourage everyone to join us as we teach and lead dances from many styles and cultures from eastern Europe, the middle east, Canada and the U.S. We will include circle and line dances, mixers, contras and more. We will also show off some of our favourite dances. This is part of the annual Culture Days weekend as shown on the Culture Days
web site.
Contact us if you have questions.