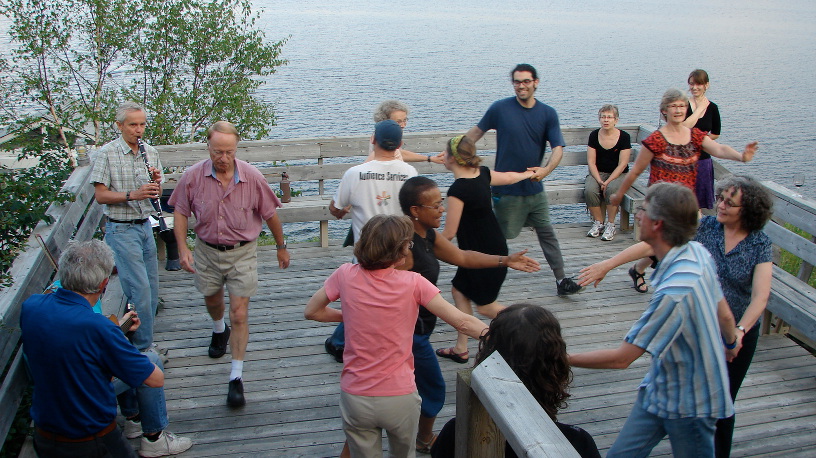 The Manitoba International Folk Dance Association is a recreational dance group, open to everyone who shares our enthusiasm for folk dancing. For over 35 years our non-profit organization has promoted the folk dances and music of countries and ethnic regions from around the world, building a repertoire of hundreds of dances from all over Europe and around the globe. We feature a wide variety of dance styles - from circle dances to set and couple dances, from line dances to mixers. More...
Join Us!
Churchill Park United Church
525 Beresford Avenue, Winnipeg, MB
Fridays 8:15 - 11:00 p.m.
From mid-September through mid-June
Want to stay in touch? Join our mailing list.


Coming Events:
Halloween Party
Oct. 26 will be our annual Halloween party. There won't be a formal teaching program and the program will be mostly based on your requests, but we will include dances that everyone can participate in with a little quick talk-through if needed. Please come in a danceable costume and bring some food to share if convenient.
---
Contra Dance, November 10th
A contra dance is happening Saturday November 10th, beginning at 7:00pm and featuring the live musical talents of none other than Patti Kusturok and her all-star band Daniel Koulack and Jeremy Rusu. Greg Allan will call contra dances and circle mixers. There will be musical interludes and opportunities for old tyme dances, and we'll wrap it all up with a waltz.
Location: Upstairs at 525 Beresford, Churchill Park United Church
Admission is $15.00 (children under 12 free)
Refreshments provided.
Bring a water bottle, indoor shoes, and a friend!
---
Jaap Leegwater Workshop, April 26-28
We have booked the well known Bulgarian and International dance teacher
Jaap Leegwater
, along with his partner
Mea Nordenfelt
to lead a weekend dance workshop April 26-28. It will include Bulgarian and other dances. Jaap comes highly recommended by those who have been at his workshops in the past. He will be assisted by Mea who will also teach some dances. More details will follow.