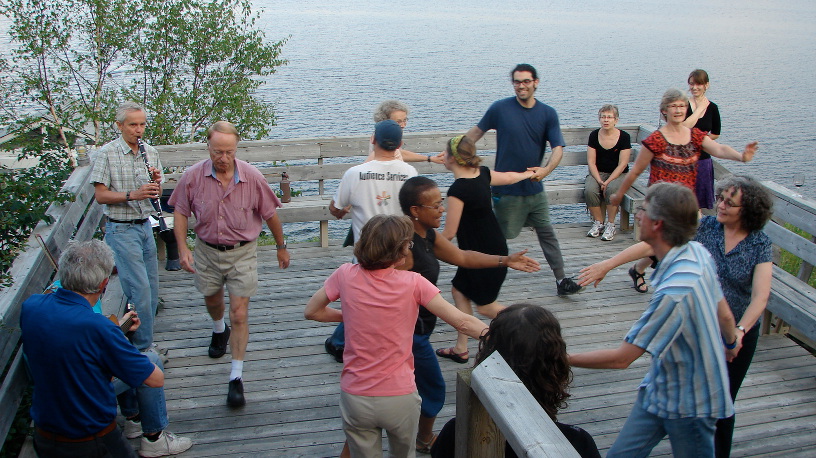 The Manitoba International Folk Dance Association is a recreational dance group, open to everyone who shares our enthusiasm for folk dancing. For over 35 years our non-profit organization has promoted the folk dances and music of countries and ethnic regions from around the world, building a repertoire of hundreds of dances from all over Europe and around the globe. We feature a wide variety of dance styles - from circle dances to set and couple dances, from line dances to mixers. More...
Join Us!
Churchill Park United Church
525 Beresford Avenue, Winnipeg, MB
Fridays 8:15 - 11:00 p.m.
From mid-September through mid-June
Want to stay in touch?
Join our mailing list
.

Coming Events:
Summer Break
Only one dance night left! Our last "bonus" night is Friday, June 22. This will be all requests, no teaching. After that we take a break for the summer and resume September 7.
---
Pot Luck Picnic June 22 (or June 29)
There will be a MIFDA pot luck picnic prior to dancing on Friday, 22 June
6:00-8:00 pm. (There will be dancing at the church that evening, as usual, starting at 8:15 p.m.)
Location:
McKittrick Park (Beresford Ave and Cockburn St S)
Please bring:
* food to share (ready to serve--no cooking facilities at the park)
* serving utensils, plates, cutlery, glasses
* drinks
* lawn chairs
* camp table or card table to serve food (if you can)
Information:
contact Barbara (204-261-1097 or
bafuller@mymts.net
).
In case of rain the picnic will be on June 29 (but there is no dancing that night).