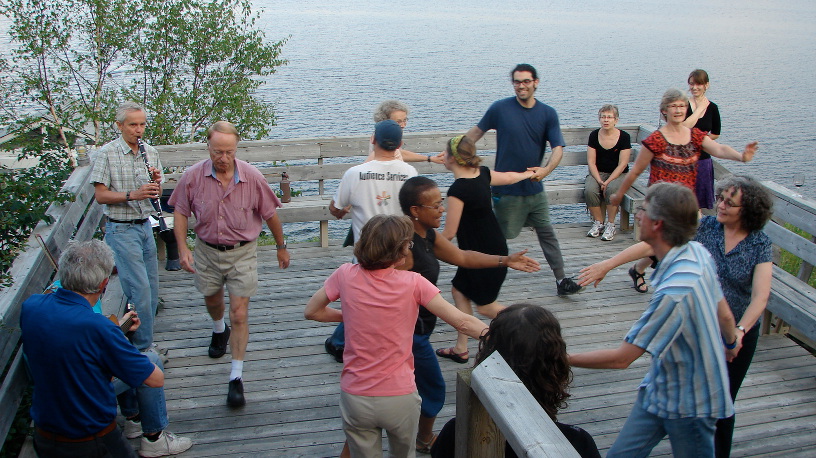 The Manitoba International Folk Dance Association is a recreational dance club, open to everyone who shares our enthusiasm for folk dancing. For over 35 years our non-profit organization has promoted the folk dances and music of countries and ethnic regions from around the world, building a repertoire of hundreds of dances from all over Europe and around the globe. We feature a wide variety of dance styles - from circle dances to set and couple dances, from line dances to mixers. More...
Join Us!
Churchill Park United Church
525 Beresford Avenue, Winnipeg, MB
Fridays 8:15 - 11:00 p.m.
From mid-September through mid-June
Want to stay in touch?
Join our mailing list
.

Coming Events:
Rick King Workshop Feb 23-25
Manitoba International Folk Dance Association is putting on a weekend dance workshop Feb 23-25 featuring Rick King. Rick is a folk dance instructor and leader from Detroit, Michigan. He has been teaching dance classes in the Detroit area since 1989 and has been an active participant in the Macedonian, Chaldean, Armenian, Serbian, Assyrian, and other local ethnic communities. Rick provides a great combination of experience as a local dance leader and knowledge of a wide variety of ethnic dance. He is highly skilled at getting people up and dancing – come and join us for what will be a great workshop for dancers at all levels. The weekend will include Friday night, Saturday AM & PM and Sunday workshops plus a Saturday dance party. Weekend cost is $50 (MIFDA members) or $60 (others). Cost for individual workshops or the dance party is $15 (members) or $20 (others).
More details to follow.