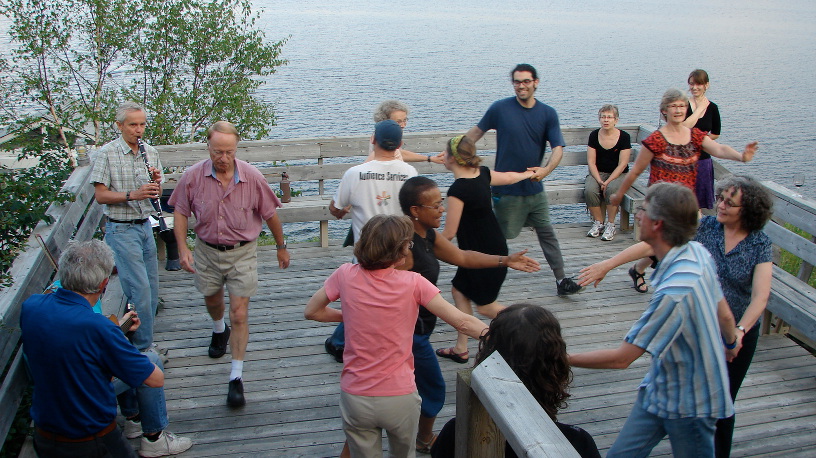 The Manitoba International Folk Dance Association is a recreational dance group, open to everyone who shares our enthusiasm for folk dancing. Since the 1970's our non-profit organization has promoted the folk dances and music of countries and ethnic regions from around the world, building a repertoire of hundreds of dances from all over Europe and around the globe. We feature a wide variety of dance styles - from circle dances to set and couple dances, from line dances to mixers. More...
Join Us!
Churchill Park United Church
525 Beresford Avenue, Winnipeg, MB
Fridays 8:15 - 11:00 p.m.
From mid-September through mid-June
Want to stay in touch? Join our mailing list.



Coming Events:
Valentine's Day party
We will have a Valentine's Day party on Feb. 15 instead of our usual teaching format. The party starts at our usual time and the dance program will be based on requests plus some fun party dances that everyone can join in on. Members can bring a snack or dessert to share.
---
Jaap Leegwater Workshop, April 26-28
We have booked the well known Bulgarian and International dance teacher
Jaap Leegwater
, along with his partner
Mea Nordenfelt
to lead a weekend dance workshop April 26-28. It will include Bulgarian and other dances. Jaap comes highly recommended by those who have been at his workshops in the past. He will be assisted by Mea who will also teach some dances. More details will follow.
---
Local Dance Events
Contra Dance Feb 16
Greg has announced that the next contra dance will be on Feb. 16th at the
Theatre Dance Centre, 603 Wall Street
with live music provided by
Harpel and the Hieberts
. Save the date contra fans! More details to come.
Greek Dinner and Dance Feb 16
There will be a dinner followed by Pontic Greek dancing to live music on Feb 16 at
St. Demetrios Greek Orthodox Church, 2255 Grant Ave
. The cost is $45 for adults, $25 for children. For tickets email Athena Dinos:
athena2@mymts.net
. See
Pontic Dance poster
.
Baroque Dance Workshop Feb 16
Jocelyne Lépine, a former MIFDA member now living in Québec City, will lead a full day workshop in baroque dance on Feb 16. The workshop is sponsored by the Winnipeg Early Music Society and will take place at
Ecole Taché, 744 Langevin
from 9:00 am to 3:45 pm. Cost is $50. For information contact
wpgearlymusic@gmail.com
. See
poster
.